Year Round Travel is pleased to be working with The Sandman Signature Inn. This elegant property is located only a few minutes from Pearson Airport. Amenities include beautifully appointed guest rooms, fitness facilities, indoor swimming pool, whirlpool, Moxie's restaurant and cocktail lounge. To take advantage of the incredibly low rate of $179, simply advise the Year Round Travel reservation agent that you are declining the included home pickup and drop off. In lieu of the pickup and drop off service, you will receive the $179 overnight rate at the Sandman Signature Inn. If you are traveling on one of our coach tours, the bus will come to the Sandman Signature Inn to pick you up. If you are traveling on one of our "fly tours" the complimentary shuttle will take you to Pearson Airport at no additional charge. Free parking for your car is included for up to 8 days. What a GREAT way to extend your vacation!
* Note $179 is plus taxes. The rate can only be used for one night prior to your group tour departure. The rate is only applicable when traveling on a Year Round Travel group tour where home pickup and drop off was included in the price, and declined.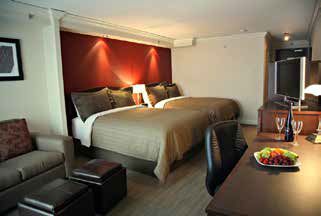 ONLY $179* PER NIGHT!