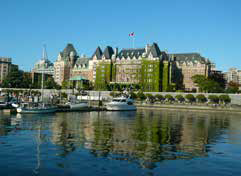 Stay Canadian and beat the high cost of medical insurance. Victoria, with its year round mild weather and a wealth of attractions make it an inviting holiday alternative. Our hotel, the Howard Johnson's, is located 5 minutes outside Victoria city center along the scenic Gorge Waterway, adjacent to the "Galloping Goose" walking trail. Two blocks from the Mayfair shopping centre, and transportation is minutes away, which allows easy access to the entire greater Victoria region. Hotel amenities include indoor heated pool, saunas, exercise room, restaurant, lounge, free daily newspapers, free internet, and complimentary in-room coffee & tea. Full size kitchen equipped units all contain 4 piece bathroom, sitting area, T.V. and more. Weekly events for winter visitors may include Bingo, Casino Night, Social Night with games and snacks, Movie Night and more.
TOUR INCLUDES:
• Return airfare Toronto-Victoria
• Transfers to/from airport to hotel
• Accommodations in a studio suite
• Maid service twice weekly
• All hotel taxes and service charges
• All departure taxes
• Bus pass for duration
• Baggage handling
• Weekly events
• Optional tours available
FULL 1 BEDROOM SUITES AVAILABLE / CAR RENTALS AVAILABLE
OPTIONAL CANCELLATION AND MEDICAL INSURANCE. CALL FOR RATES.
DATES & TWIN PRICE:
Duration between
Oct.1,2019 April 30,2020
Studio Suites:
1 Week:$1499
2 Week:$1799
3 Week:$1999
4 Week:$2099