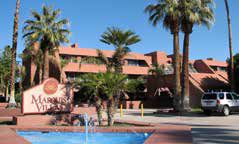 Nestled in the heart of Palm Springs with a spectacular mountain setting, the Marquis Villas Resort offers oversized one bedroom condominiums. All units contain fully equipped kitchens, living/dining room, separate bedroom, and 4 piece bathrooms. The resort is strategically located near all amenities such as shopping, dining and entertainment. The property features a spacious sun deck, lovely swimming pool, tennis courts, BBQ, and more.
TOUR INCLUDES:
• Return airfare Toronto-Palm Springs
• Transfers to/from airport to condominium
• 30 nights accommodation in a one bedroom condominium
• All hotel taxes and service charges
• All departure taxes
• RESORT FEE PAID LOCALLY
CAR RENTALS AVAILABLE
OPTIONAL CANCELLATION AND MEDICAL INSURANCE. CALL FOR RATES.
DATES & TWIN PRICE:
Oct.-Dec.2019 $2499
Jan.2020 $2699
Feb. – Mar.2020 $2999
April2020 $3099
PRICE FREEZE
SAME RATES AS 2018/2019