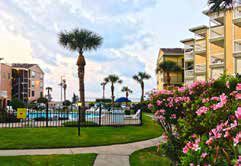 The Victorian Condominiums represent terrific value for a long-term winter getaway. Each comfortable one-bedroom suite features a private balcony, fully furnished living area with small studio kitchen, a separate bedroom with queen bed, and most with a queen sleeper sofa. Fabulous amenities include beautifully landscaped grounds, two swimming pools (one heated) whirl pools, fitness centre, tennis court, a barbeque area, laundry facilities, and a 24 hour front desk.
Relax by the pool, take a sunset stroll on the beach or enjoy Galveston's rich Island history. The Victorian Condominiums and Galveston Island offer something for everyone!
TOUR INCLUDES:
• Return airfare Toronto-Houston
• Transfers to/from airport to Galveston Island
• All applicable hotel taxes and service charges
• All departure taxes
• Baggage handling
CAR RENTALS AVAILABLE
OPTIONAL CANCELLATION AND MEDICAL INSURANCE. CALL FOR RATES.
DATES:
Jan. or Feb. 2019
Twin:
$1999
March 2019
Twin:$2099