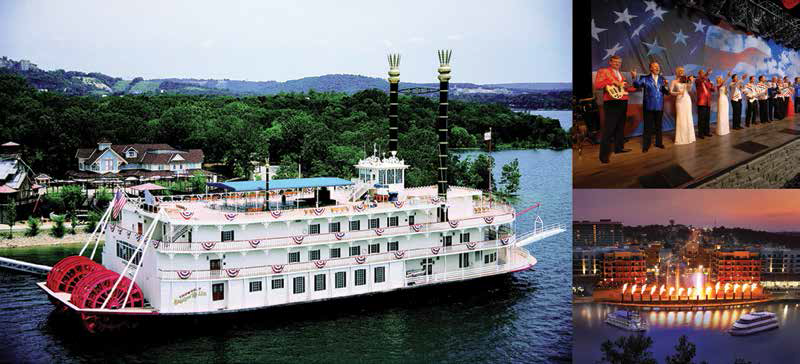 C'mon down!…..Branson is the entertainment capital of America….good old down home hospitality is waiting for us here in the beautiful Ozarks. Food, shopping, sightseeing, nightlife, and shows, shows and more shows are the order of the day in Branson. We're lookin forward to see'in y'all real soon!
TOUR INCLUDES:
• Home pick-up/drop off (Metro Toronto)
• Return transportation via highway coach
• 1 night accommodation each way to/from Branson
• 5 nights accommodation in Branson
• 5 buffet breakfasts in Branson
• 2 full hot breakfasts en-route
• 5 dinners while in Branson
• 9 shows (see show lists)
• Visit to Branson Landing
• "Festival of Lights" (Nov.)
• "College of the Ozarks" – Campus Tour
• Duty Free shopping
• All hotel taxes & service charges
• All gratuities on included meals
• Baggage handling
• Tour escort
SHOW LIST OCTOBER:
· Presley's Country Jubilee
· Showboat Branson Belle
· Yakov Smirnoff
· Mickey Gilley and Johnny Lee
· Raiding the Country Vault
· Dutton Family Show
· Grand Jubilee Show
· Samson Show
· Charley Pride
SHOW LIST NOVEMBER:
· Crystal Gale
· Daniel O'Donnell
· Andy Williams featuring Jimmy Osmond, Lennon Sisters and a variety of acts
· Brett Family Show
· Oak Ridge Boys
· Texas Tenors
· Samson Show
· Yakov Smirnoff
· Classic Country and Friends
OPTIONAL CANCELLATION AND MEDICAL INSURANCE. CALL FOR RATES.
OCT.DATES:
Oct. 21 – 28, 2018
PRICE:
Twin: $1799
Single: $2289
NOV. DATES:
Nov. 11 – 18, 2018
PRICE:
Twin: $1899
Single: $2389